Our new Sharps Disposal Systems are cost-effective solutions for the collection and responsible disposal of sharps and regulated medical waste. Our sharps ship-back systems come in sizes ranging from 1.2-gallons up to 28-gallons, and are available as single systems, multi-packs or larger collection systems. These systems are ideal for small quantity generators of waste.
Our systems are unique because they have the ability to hold 20% more capacity than the industry standard, which results in fewer reorders throughout the year for you. Overall, our customers save up to 50% or more since our sharps systems do not require contracts, monthly fees, fuels surcharges, minimum purchase requirements or any other hidden fees!
IT'S AS EASY AS 1-2-3!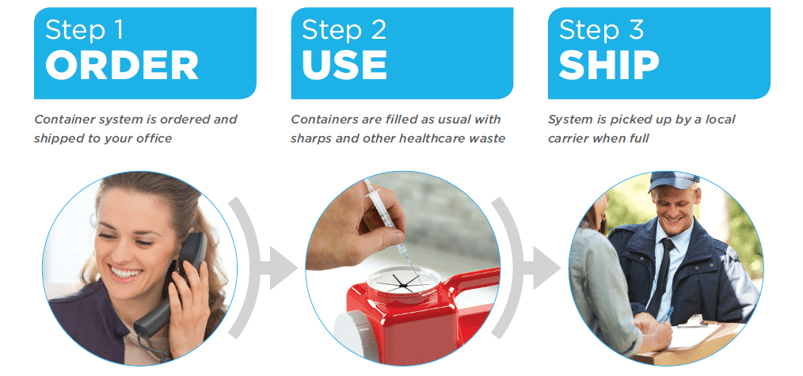 With even greater savings and several unique benefits, staying compliant has never been easier. Our systems are unique because they automatically include:
Online tracking via live email notifications from pickup to destruction
Electronic recycling certificates automatically sent
Prepaid return shipping box
Pre-filled manifest
Inventory management and auto-reorder options
Feel free to contact us at 877-765-3030 or visit the PureWay Store if you are interested in learning more about our Sharps Disposal Systems!