Pharmacies, hospitals, health departments, doctor's offices, and self-injectors are all home to sharps and sharps waste. The Centers for Disease Control and Prevention(CDC) reports that sharps injuries are primarily associated with occupational transmission of hepatitis B virus (HBV), hepatitis C virus (HCV), and human immunodeficiency virus (HIV), but they have been implicated in the transmission of more than 20 other pathogens. Can all sharps waste risks be eliminated? No, but proper management in a safe protocol can reduce the risk of sharps injuries through awareness, safe disposal, and state and federal disposal laws to minimize exposure.

Sharps Meaning
First, we'll cover the formal definition of Sharps. The Occupational Safety and Health Administration (OSHA) describes sharps as objects that can penetrate a worker's skin, such as needles, scalpels, broken glass, capillary tubes, and the exposed ends of dental wires. Sharps are used at home by self-injectors and in medical settings such as hospitals or clinics. Once sharps are used and or exposed to blood or other potentially infectious materials (OPIM), are present on the sharp, it is a contaminated sharp. In this case, appropriate personal protective equipment must be worn and the sharps waste should be properly disposed of. Sharps are used to managing medical conditions of people and animals (pets) to treat allergies, arthritis, cancer, diabetes, hepatitis, HIV/AIDS, infertility, migraines, multiple sclerosis, osteoporosis, blood clotting disorders, and psoriasis, says the U.S. Food and Drug Administration (FDA). Below are examples and the definition of sharps with their definitions provided by the FDA:
Needles – hollow needles used to inject drugs (medication) under the skin
Syringes – devices used to inject medication into or withdraw fluid from the body
Lancet's "fingerstick" devices – instruments with a short, two-edged blade used to get drops of blood for testing. Lancets are commonly used in the treatment of diabetes.
Auto-Injectors(epinephrine and insulin pens) – syringes prefilled with fluid medication designed to be self-injected into the body
Infusion sets – tubing systems with a needle used to deliver drugs to the body.
Connection needles/sets – needles that connect to a tube that transfers fluids in and out of the body. This is generally used for patients on home hemodialysis.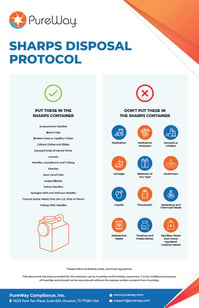 Download Free Poster -
Sharps Disposal Protocol For Staff Training
How to dispose of sharps safely
Once a sharp is used, it is essential to dispose of it as soon as possible. This is to keep contact minimal and prevent workers from being unintentionally punctured by a sharp with hazardous substances. Documenting this process is essential in keeping sharps on track to safe and proper disposal.
The best way to do so is using Sharps containers , these containers should be puncture resistant, leak-proof, and designed to hold sharps inside for storage, transport, and disposal. These containers must follow regulations set by state or federal levels such as color coding, proper labeling, hazardous substance markings, and correct sealing. Once sharps containers reach ¾ full, they should be disposed of by using proper Sharps container disposal and mail back systems.
If you do not have access to a designated sharps container, there are at-home bins such as heavy-duty laundry detergent containers or softeners that can be used as a substitute in the meantime. Sharps and sharps containers should be kept out of reach from children and animals. Substituted containers must be made out of puncture-resistant material and have a closable lid.
You can find a list of state and federal regulation sources here for your state's guidelines.
Needlesticks
When someone is unintentionally cut or punctured by a sharp, this is called needlesticks. To avoid needlesticks, you should place sharps in a sharps container immediately after their use. This is an example of why by the definition of sharps, you should keep them safely kept in a disposal container that is up to regulation.
FAQ's Sharps
Here are some frequently asked questions and answers about Sharps! For more information on FAQ's.
Q1) Is there a weight limit for collection container systems?
Yes, there is a weight limit. You can find the weight limit of your disposal container on the front label. Additional fees are added to containers exceeding the weight limit.
Q2) Where can I get Sharps containers?
There are a variety of medical waste services. You can order sharps containers that fit your needs and disposal at PureWay.
Q3) What are sharps?
The simple definition of sharps as stated by the FDA are devices with sharp points or edges that can puncture or cut skin.
There are many waste management services to choose from, so it is important to decide on who to end up with. There are numerous ways to dispose of your sharps waste including drop box or supervised collection sites, mail-back programs, and even getting your healthcare provider to take them for you! PureWay offers many convenient services to supply sharps containers and disposal for your sharps needs.